In this this coming seminar, we invite Dr. RAY LC from City Uinversity to give us a talk about Human-computer interaction in artistic interventions for narrative influence. Please see the detailed information about his talk on Nov 22nd 9:30 AM in Rm 1032, LSK Building. I look forward to seeing you there. This seminar will be hold in mixed mode, you are all encouraged to come in person! And please share the information to your friends and students!
Abstract:Humans can tell stories about anything: their life goals, the people they work with, the devices they use. In particular, humans tell stories to influence others and themselves, to get others to agree and participate, to frame their own narrative. To investigate how humans build narratives around interactions in environments and with machines, a computational or user study based approach shall be complemented by artistic practices that dig into human emotion and motivation, as well as how humans can deceive themselves and be misperceived by misrepresented by others, including machines.

This talk describes a body of work from an interdisciplinary practice highlighting projects in HCI (CHI, HRI, DIS) and media arts (exhibitions, performances) from the perspective of human psychology, to not only study the way humans interact with machines in virtual and spatial environments, but to allow for the experience of the interaction that attempt to glean insight from naturalistic audience interaction and performance evaluation. Exhibited works in robotic art, human-machine text generation, facial recognition, machine gestural studies, virtual environmental storytelling, etc, describe the way we Mind the Machine behind a veil of narrative influence.
Speaker Bio: RAY LC's practice creates interaction environments for building bonds between humans and machines. He takes perspectives from his own research in neuroscience (pubs in Nature Comm, J. Neurosci, J. Neurophys) and in HCI (pubs in CHI, DIS, HRI, TEI, Frontiers, etc) in his artistic practice, with notable exhibitions at BankArt, 1_Wall, Process Space LMCC, New York Hall of Science Residency, Saari Residency, Kyoto Design Lab Residency, Kiyoshi Saito Museum, ICRA Elektra Montreal, ArtLab Lahore, Ars Electronica Linz, NeON Digital Arts Festival, New Museum, CICA Museum, NYC Short Documentary Film Festival, Burning Man, NeurIPS, Deconstrukt, Angewandte Festival, Elektron Tallinn, Floating Projects, Jockey Club Creative Arts Centre, Osage Gallery.

RAY comes from UCLA Neuroscience (PHD) and Parsons School of Design (MFA). His current work uses artistic interventions to probe our spatial relationship with machines. He has been funded by National Science Foundation, National Institutes of Health, Japan Society for the Promotion of Science, Verizon Connected Futures, Adobe Design Award, Microsoft Imagine Cup, Kone Foundation, Davis Peace Foundation, NY Foundation for the Arts, Hong Kong Arts Development Council. RAY is currently Assistant Professor of Creative Media at City University of Hong Kong.Mixed ModeLocation: Rm 1032, LSK building, HKUST
Time: Nov 22nd, 9:30AM
Zoom Meeting Information:
Join Zoom Meeting
https://hkust.zoom.us/j/97885803124?pwd=MS9xYk90SmJKY0lHSmt0bExFdVlTUT09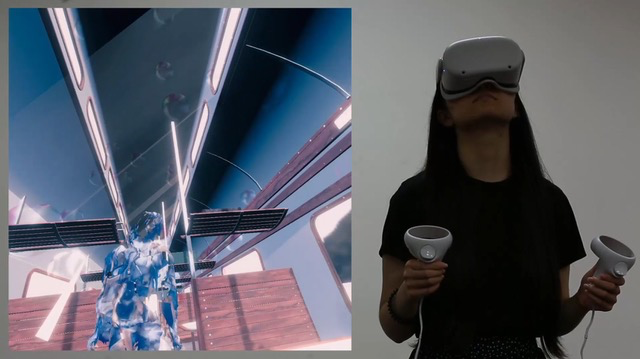 Meeting ID: 978 8580 3124
Passcode: cma